Your Source For Nature's Antioxidants
Chaga Mushroom Products | Berries & Berry Powders | Chaga & Blueberry Skin Care

My Berry offers chaga mushroom products, berries & berry powders, and exclusively formulated chaga & wild blueberry skin care, all sourced from nature. Your source for natural, immune-supporting antioxidants.
Try Our Popular Quick & Easy Maine Chaga Tea Bags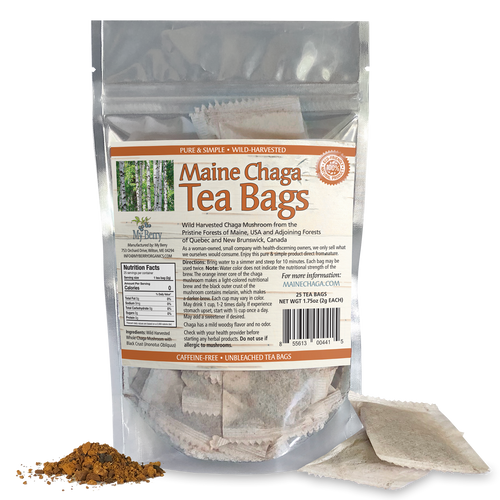 In a hurry? Don't miss out on getting your daily immune support intake. Each tea bag can be used 2-3 times. Simple & easy.
Maine Chaga Mushroom
Antioxidant Source - Simple & Affordable Daily Use For Immune Support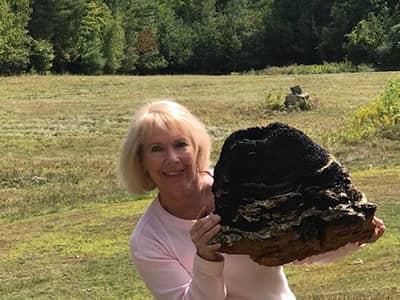 The chaga mushroom has been used for centuries in North European countries, Poland, Russia and Japan. The following organizations have this to say about chaga:

The World Health Organization (WHO) has listed chaga mushroom as having GRAS status (generally recognized as safe).

The FDA classification of chaga is the following: Food safety issues-none, Known toxicity-none, Drug contradictions-none, known taste-none, Odor-none, Refrigeration-none, Shelf life-indefinite
Our chaga powders and chunks are classified as a food and as such, do not take if allergic to mushrooms.
Existing Wholesalers
Log in to place a new wholesale order.
What Our Customers Are Saying!
Great Chaga Tea Bags product! I like that this is a woman operation. Thank you for such a great product.
The best ever wild blueberry powder! I hope I never have to be without!!
This face serum absorbs quickly and is perfect when paired with the Maine Chaga Face & Body cream. My face feels soft and moisturized, but never greasy. I will for sure be buying the face serum and face cream again.
Great instructions on how to brew chaga tea. Harvested in USA!
I have been using the (wild blueberry powder) product for years. I love it!!
Thank you, I am Diabetic and is hard to find things sugar free, I will be ordering from you again.
I use the chaga tea inside a Keurid container, the one you put your coffee in yourself and I have less grind. Love it!
Superb tinture -- Chaga at its best -- get all you can before the winter solstice
Very high quality Chaga. My search is over. Taste is mild, smooth and the best I've ever tasted. Mostly the powder is super-fine with the larger grains easily settling to the bottom of the cup, they are no issue for me. I put in my mug along with stevia, oils, peptides and let my coffee pour-over drip right over, steeping at bottom as coffee drips in. Soaps are a real treat, aromatic and pure!
Such a great product! I appreciate your hard work. I value Wild Blueberry powder as I cannot always get frozen berries where I live. I use it everyday and that means I order a lot! Great in smoothies. mixed into oatmeal, or water for a quick pick me up. Thank you and I love that you are a women run business.
This has helped in ways I did not think it could!! Great product!!!! (Maine Chaga Fine Powder)
This amazing product (Maine Chaga Tea Bags) is from a small business in New England. It is women owned and operated, and they hit a homerun with these clean chaga tea bags. The tea has a pure taste, deliciously fresh with subtle nutty undertones, and the aroma is so calming. The tea bags themselves are equally impressive - sturdy and made without bleach; simply amazing! I have reused the same tea bag three times with no issues. To make a quality chaga tea that is not imported and full of chemicals is impressive enough, but to put it in a chemical free tea bag for ease of use, is a game changer. This is a stellar, well thought out product, that has now earned top billing in my daily routine! Well done! (Maine Chaga Tea Bags, 25 count)
We have bought this several times. We drink the tea everyday. I would recommend this product for a healthy immune system which is a must in this world of Covid 19. (Maine Chaga Tea Chunks)
Didn't realize how real cranberries tasted, until this product. Like em in salads. (Unsweetened Cranberries)
Just what I needed for low carb baking. (Unsweetened cranberries)
I truly enjoy the products from this company. I've tried chaga mushroom from others but they never compare to the quality I get from others. I highly recommend their products and especially this tea. (Maine Chaga Tea Bags, 25 count)
The chaga chunks are mild in taste. I add this with my bagged tea and keep adding water throughout the evening. Works like a charm.
I always buy from smaller companies if I can, so I decided to buy this wild blueberry powder. I LOVE the flavor of this product! So rich in taste. I love adding this to my chia seed pudding.
I love that these cranberries are unsweetened and the sour taste is amazing!
I have finally found cranberries that fit my taste palette, dry, tangy, fresh, tangy. Just perfect.
Excellent dried wild blueberries and is top quality.
This is a trusted source for this potent mushroom powder.
The wild blueberries are delicious and easy to incorporate into different foods.
Cranberries are exactly as described. This is an extremely healthy product!
I just started using the Wild Blueberry Powder and it is the real deal in color, smell and taste.
Great product, Chaga Tea Chunks and I am very happy with this company. We make the tea everyday, it tastes great and it supports our immune system.
Had to order a second one (Maine Chaga Fine Powder)for my sister after the great effects it has had on me!