Good Health from the Outside In and from the Inside Out
My Berry Organics offers a custom formulated line of chaga skin care and chaga tea powders/chunks with ingredients sourced from nature. Our two signature ingredients are the Maine chaga mushroom and the prized wild blueberry.
NEW! Pure & Simple Whole Cranberry Powder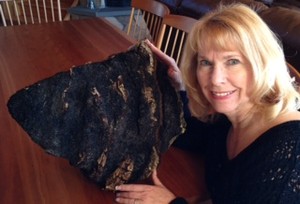 A Super Sized Maine Chaga Specimen.
Maine Chaga Mushroom
Antioxidant Source - Simple & Affordable Daily Use
The chaga mushroom has been used for centuries in North European countries, Poland, Russia and Japan. The following organizations have this to say about chaga:
The World Health Organization (WHO) has listed chaga mushroom as having GRAS status (generally recognized as safe).
The FDA classification of chaga is the following: Food safety issues-none, Known toxicity-none, Drug contradictions-none, known taste-none, Odor-none, Refrigeration-none, Shelf life-indefinite
Our chaga powders and chunks are classified as a food and as such, do not take if allergic to mushrooms.